1. Why are we doing this piece of work?
The COVID-19 pandemic forced many businesses to find new ways to get work done. To help our clients continue to work and meet targets the Impactara coaches took an approach to make remote work be just as effective as the physical workplace.
2. What was happening before? Before early 2020 all tools and techniques were delivered in the physical environment face to face. Due to the COVID-19 pandemic, we had to find a way to deliver the same rigour and results remotely.
3. How is it now? We have found ways of working to continually deliver results for our clients in the remote working environment.
4. What has been achieved? The team researched and tested many different solutions to find the best and most suitable platform for teams to stay connected and deliver the same results. It was concluded that Mural best suited our needs. We however, do not work solely with Mural and have experience working on multiple platforms, ensuring client collaboration goes smoothly, no matter their preferences. We then built and tested our physical tools on the virtual platforms and we continue to research and test new products and platforms to ensure that we are at the cutting edge in terms of remote working.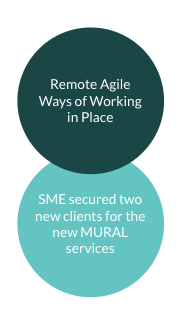 5. What happened next?
We have successfully delivered projects and kept geographically dispersed teams connected and on target. Our suite of virtual tools, include:
Virtual Huddle – Our MURAL Huddle template is used within a team to improve communication and increase efficiency in delivery. The Huddle approach, combined with usability of Mural, allows remote-working teams to effectively communicate on daily activities, where help is needed and to visibly share opportunities.
Remote Kaizen Event – thanks to the interactive features of the MURAL platform, our team was able to develop all the necessary templates for conducting a Remote Kaizen Event. Kaizen Events assemble cross-functional teams into a focussed, 3-5 day dedicated event to identify then reduce waste and attain sustained results.
6. Project Team
Anthony Babes Improvement Coach
Gerard Grattan Improvement Coach
Nikita Korolev Improvement Coach