1. Why are we doing it?
A small business owner had come to Impactara after exploring the possibility of transforming their business from a physical to virtual workspace. The client had used a free trial of digital collaboration tool, MURAL, but not discovered the full potential of its features. The client was testing out the capabilities of MURAL to use for their own consultancy business. The coaches at Impactara would look to take the client through the main features and assist in improving their familiarity with the collaboration platform.
2. What was happening before?
The client has been looking for a way to take their consulting business on to the virtual space. They had tried MURAL but had not seen the full value of it, mainly due to using it on their own and not experiencing the full capabilities of the platform.
3. What was done?
Firstly, we discussed with the client their initial understanding of the platform, before taking them through the basic functionality of it. We then used our own examples of templates we had created as a business and use on a regular basis to get the client to see the variable use of MURAL.
We looked at what service offerings the client currently provided in a physical environment and took them through how this could be undertaken in a virtual sense.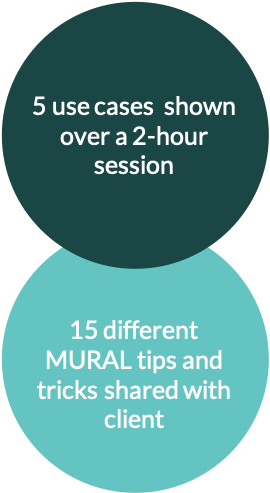 4. What have we achieved?
The client was trained on how to use the platform. They learned how to create their own templates for their clients and how to utilise all the features as well. The client is now confident to look at using the platform for their own consultancy services. This allows them to include a virtual offering as opposed to only in a physical environment.
5. What happened next?
We offered continued support for the client as they navigate MURAL and remain on hand to assist with the creation of Rooms, Templates and share facilitation tips.

6. Project Team
Anthony Babes
Improvement Coach
Locke Gilmour
Improvement Coach
Lynne Haddow
Improvement Coach
Nikita Korolev
Improvement Coach